Contact:
Marcus Greferath
School of Math. Sciences
University College Dublin
Belfield, Dublin 4, Ireland
Phone:
+353-1-716-2588 (UCD)
+353-85-153-0951 (mobile)

Joachim Rosenthal
Institut of Mathematics
University of Zurich
Winterthurerstrasse 190
8057 Zurich, Switzerland
Phone:
+41-44-63 55884 (office)


ITW 2010 Dublin
IEEE Information Theory Workshop
Dublin, August 30 - September 3, 2010
Conference Photos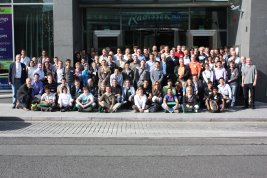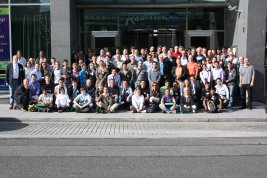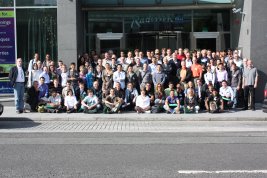 Click to enlarge.
---
Conference Venue: Radisson Blu Royal Hotel Dublin
Marcus Greferath (chair)
Joachim Rosenthal (chair)
Eimear Byrne
Jens Zumbrägel

Elva O'Sullivan
Marie Doyle
Erdal Arikan (Bilkent University)
Christine Bachoc (University of Bordeaux)
Ian Blake (University of British Columbia)
Tali Kaufman (MIT)
Ueli Maurer (ETH Zurich)

Technical Program Committee

Alexander Barg (chair)
Gilles Zemor (chair)
Alexei Ashikhmin
Joseph Boutros
Jun Chen
Suhas Diggavi
Ilya Dumer
Iwan Duursma
Tuvi Etzion
Mark Flanagan
Marc Fossorier
Philippe Gaborit
Albert Guillen i Fabregas
Tom Hoeholdt
Ashish Khisti
Michael Langberg

Yingbin Liang
San Ling
Gary McGuire
Gabriele Nebe
Haim Permuter
Ron Roth
Narayana Santhanam
Igal Sason
Vitaly Skachek
Roxana Smarandache
Yossef Steinberg
Alexander Vardy
Pascal Vontobel
Aaron Wagner
Judy Walker
Chaoping Xing

The main focus of the conference will be algebraic methods in information theory without excluding other areas of the discipline. We welcome researchers working on the fundamentals on information theory as well as questions of implementation.
Previous meetings have been in Volos (Greece), Taormina (Italy), Porto (Portugal), Lake Tahoe, California (USA), Punta del Este (Uruguay), etc.
Topics of interest include, but are not limited to:
Information and coding theory in networks
Graph-based codes and iterative decoding
Information- and coding-theoretic aspects of secure communications
Algebraic codes and sequences
There will be invited sessions on:
Algebraic codes and sequences
Organizer: Patrick Sole
LDPC codes
Organizers: Simon Litsyn, David Burshtein
Quantum information processing
Organizer: Jean-Pierre Tillich
Channel uncertainty
- Point-to-point communication
- Network communication
Organizers: Navin Kashyap, Michael Langberg
Polar codes
Organizer: Emre Telatar
Coding and information-theoretic methods in cryptography
Organizer: Gerard Cohen